I don't always use antimicrobials with my SIBO patients, but when I do. . .I choose wisely ~ Dr Lisa
People often ask, "What's your SIBO protocol?" My answer: "I don't have one." You see, I don't treat SIBO (Small Intestinal Bacterial Overgrowth). I treat patients (i.e.: the person's body as a whole) and I help them to support digestion and restore a healthy gastrointestinal system. And, since everyone comes in with a different manifestation, different needs, a different underlying cause, and is at a different stage of their disorder, how would it make sense to put everyone on the same protocol?
When bacterial counts are high, we may want to assist the body in bringing those levels down by introducing herbs that create a hostile environment within the gut where the bacteria can no longer survive. A common thread that I often include in protocols would be some sort of botanical agent with antimicrobial properties. But please know, it doesn't stop there.
A well rounded protocol may include digestive enzymes, herbs to stimulate hydrochloric acid secretion, cholagogues, specific fatty acids, specific probiotics, biofilm disruptors, specific compunds to address histamine issues, intestinal lining support, urinary tract support, nutraceuticals to support gut immunity, motility agents, and of course. . .the antimicrobials.
Here is a review of the antimicrobials I most commonly recommend, what I like about each and why I might choose them for each type of case.
G.I. Synergy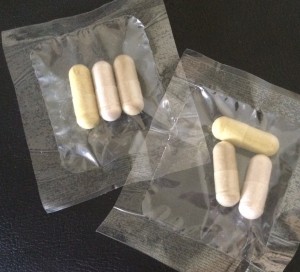 G.I. Synergy is a rather broad spectrum antimicrobial blend of 15 herbs and isolated nutrients specifically designed to support the gut in eliminating unwanted pathogens. It is a combination of 3 complimentary products that work together to support the intestinal terrain, and are conveniently packaged into cellophane pouches that can be easily transported in a purse, briefcase or pocket for mid-day dosing.
Pros:
This is an excellent formula for the patient who has multiple gut infections in addition to their SIBO, whether that be H. pylori bacteria in the stomach, an overgrowth in the fungal or candida category, or actual parasites (yes, they are far more common than most people realize). Something to keep in mind is that once the gut terrain is disturbed, it creates a perfect breeding ground for multiple pathogens to flourish. G.I. Synergy does a nice job at addressing all 3 of these categories. I do get a number of negative SIBO breath tests following use of G.I Synergy.
Cons:
Well, putting that many herbs in the system all at once, we run the risk of also wiping out the good bacteria in the colon. It truly is a fine line. In addition, in order to get enough of the main ingredients that have been shown effective against SIBO, we have to dose ALL of the herbs at a high dose, which isn't always favorable. At times, I can get around this by supplementing with just one of the three formulas included in G.I Synergy to boost an effect in that particular area.
When I Might Choose G.I. Synergy:
I use this product when I suspect or have tested and found multiple pathogens present. If the patient presents with SIBO and parasites or candida, and refuses medication or wants to go a natural non-toxic route first, I'll consider G.I Synergy. Many patients feel great while taking this, which is very encouraging.
CandiBactin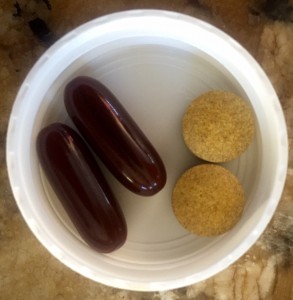 CandiBactin comes in two distinct formulas, CandiBactin-AR® and CandiBactin-BR®. CandiBactin-AR is a blend of aromatic essential oils and dried herb leaf extracts supporting digestive and upper respiratory health. CandiBactin-BR is concentrated berberine and Chinese herb formula that supports healthy intestinal, detox and immune functions. These formulas can be used independently, or together for a synergistic effect. Since I typically use them together, or in an alternating pattern, I will refer to these two formulas collectively as CandiBactin for the purposes of this article.
Pros:
CandiBactin goes to work on tough SIBO and/or candida cases. Most people report that they can really feel it working due to its die-off effects. It also contains ingredients that act as motility agents. To this day, I have never seen it not work in at least lowering levels on initial follow-up SIBO breath tests. As with all botanicals, multiple rounds may be needed, but CandiBactin is a powerful aid, and an effective course may be completed in as little as 6 weeks with far fewer pills taken per day.
Cons:
Since CandiBactin is quite strong, there is a slight chance that it may not be as well tolerated. Candibactin AR may produce burp-up of thyme and oregano since they are in essential oil form (although, oddly, some people actually report that they enjoy it). CandiBactin BR contains such concentrated berberine that a small percentage of patients cannot tolerate it's intense effects. However, this can often be alleviated with low-and-slow dosing. Also, CandiBactin has not shown to do as well on coexisting parasitic issues as other formulas specific to those needs.
When I Might Choose CandiBactin:
This really is a main go-to combo for SIBO or SIBO with coexisting candida. The exception would be if I suspect or have found a heavy metal burden on testing, in which case I would start with a few other products first, and then add in CandiBactin AR and BR about half way through the protocol. I also choose CandiBactin when all else fails, and it consistently does a good job. If a person is not used to taking a lot of pills, a good result can be seen with only a few pills per day, which is nice. And it can be dosed twice per day instead of three times per day like most other botanicals.
Biocidin®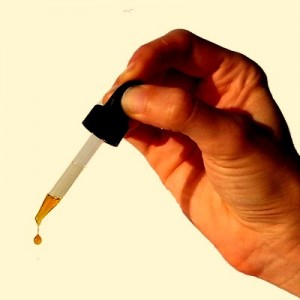 Biocidin is a well proven broad spectrum botanical blend that comes in a number of forms and potencies. It supports a healthy and balanced intestinal ecology, and has a track record of resolving over 40,000 documented cases of gut issues of all types. It is often used alongside it's counterpart Olivirex for additional immune support and antimicrobial effect combined with elimination and drainage through liver and urinary tract pathways. This tends to cut down on the dreaded die-off Herxheimer reactions.
Pros:
Biocidin comes in a pleasant tasting liquid form that works great for children or adults that have trouble swallowing pills. Drops make it easy to micro-dose for sensitive patients who cannot tolerate the entire dose of botanicals that come in a whole pill form. Or, one can slowly titrate up on the dose as tolerated until the maximum dose is finally reached. Once max dose is tolerated, most people prefer to transition over to the Biocidin Advanced Formula capsules. One capsule is equivalent to 5 drops. Biocidin also comes in a Throat Spray, not that I use it much for SIBO, but it is nice to have for sore throats and during the winter months as an adjunct since Biocidin is also helpful in upper respiratory cases during the cold and flu season. And lastly, there is Biocidin LSF which is in a liposomal form.
Cons:
It's hard to come up with anything opposing Biocidin other than the fact that in those sensitive cases where we must start slowly and work up to a more effective dose, it can take a little longer to get a result. But this would also be true of any antimicrobial that is dosed in a low-and-slow protocol.
When I Might Choose Biocidin:
Definitely for children, but also for those individuals who are prone to sore throats and upper respiratory issues. It is broad spectrum so it is effective in a number of different situations where co-infections are present. Very sensitive patients do quite well with the Biocidin drops. Capsules can be inserted locally for vaginal yeast infections. With cases where Lyme is suspected or confirmed or where symptoms are systemic or of neurological manifestation, the Biocidin LSF is ideal when used cautiously and appropriately.
It is always recommended that you work with a qualified practitioner, well versed in working with SIBO and other gut issues. Yet, it is understandable that some people choose to attempt self-treatment. Please keep in mind that antimicrobials are only one small part of the equation when it comes to overcoming SIBO. A thorough and well thought out plan for supporting overall digestion is highly recommended. For more information, browse the following educational articles:
SIBO Supplements to Help You Fight the Good Fight
How to Overcome SIBO: A Three-Sided Approach
Three Free Things You Can Do to Improve Digestion
These statements have not been evaluated by the Food and Drug Administration. These products are not intended to diagnose, treat, cure, or prevent any disease. These suggestions are not intended to replace medical care. They are to be considered nutritional support and an adjunct to medical care.