Do you ever feel like no one gets it? That you're all alone out there in SIBO City where no one realizes what you go through and no one has any idea how hard it is just to make it through the day? Let alone, actually find food to eat that doesn't destroy you!
Hopefully this isn't the case for you, but some patients report that friends and family members feel "put out" or inconvenienced by the fact that they can't eat anything, or that they have to go to special restaurants in order to accommodate the SIBO patient's limited diet. This can make you feel invalidated, judged or like you're on the defensive.
This article is intended to give you the verbiage you need to explain to your family and friends that:
You're not crazy
You're not on a diet to lose weight
You will have significant repercussions if you eat off your diet
Scenario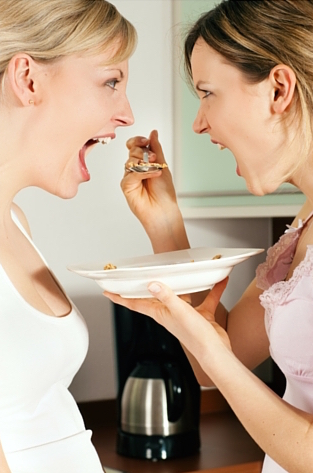 You're all out to eat or over at your family's house for a gathering. Someone offers you pizza. First of all, this puts you in an awkward situation because you really want the pizza, but you also know it will kill you later. Plus, you don't want to turn them down by declining because you know how much they just really want to share it with you and have you enjoy it.
You say something along the lines of, "Oh, thank you so much, but I'm on a special diet and I really shouldn't."
They respond with, "Oh come on, you look great. A little piece won't hurt you. Here, take this one!"
You: "Well, it's not a weight loss diet, it's for health reasons, and if I eat this it will make me sick."
Them: "Oh that's all in your head. Pizza's good for you! Look, there's bread, cheese, meat and even vegetables. See. . .all four foods groups in one."
You sit there bewildered as to what to do, what to say. You really don't want to get into the whole thing about how hard you have worked over the past 6 months, eating nothing but bird food and spending $2,400 on antibiotics, another $800 on supplements and $360 on testing. You don't want to bring up the awkward explanation of bacterial overgrowth and it's contribution to your ever-present battle against diarrhea and/or constipation, bloating, nausea, belching or worse. You, by all means and with everything in you, hope to avoid leaving them with the visual of you looking 9 months pregnant and curled up on the bathroom floor later tonight. So, you, reluctantly, with a fake smile on your face. . .take a bite. Ouch!
You matter
Here's the deal. People are either going to get you, or they won't. Some will automatically support you, others will harass you until they understand. But YOU are more important than their opinion of you. YOU have to matter to you. Your healing and recovery has to come first, even above all of the times your Italian grandma says, "Mangia, mangia!"
Sometimes, in order to get your point across, you will have to go for the shock factor, try the humorous route, or possibly even use a response that will just take them out so they won't even want to ask you another question or push it further. If none of that works, just sound really smart and they'll probably back down.
What should I say?
So here are some come-backs when they ask you the question, "Don't you ever eat REAL food anymore?"
If I eat that I will. . .(fill in the blank with appropriate response of your choice):
be doubled over in pain for the next 24 hours
have shooting diarrhea within 20 minutes
go from zero to full-term-pregnant by the time I'm done eating that
deal with aliens in my gut for the next few days
have a party in my tummy, and not the kind you want to come to
spend the night curled up in a ball on the bathroom floor
break out in hives
start an endless round of belching like a truck driver for the next hour
be up all night with reflux
land in the ER. . .again
 When that doesn't work. . .sound smart
If they roll their eyes as if you're nuts, casually mention something along the lines of, "Yeah, you know, they used to consider this condition I have to be psychosomatic or psychological in origin until they discovered that the root of the problem is in the microbiome and is far more dangerous than once thought. Fortunately they've made some pretty helpful advancements in both diagnostics and treatment methods over the past few years, so I'm very grateful for that!"
Be the teacher
People will usually take you seriously once they understand that SIBO is a real thing, and that you are educated on your condition. They may, at this point, begin to ask you questions. Here's a fairly easy way to simplify SIBO without getting into too many of the gory details.
"SIBO stands for Small Intestinal Bacterial Overgrowth. It happens when bacteria gets into the intestines in places where it shouldn't be. This bacteria steals all the nutrients from the food I eat, so I feel tired and worn out. It also releases toxins into my body that make me feel sick. My abdomen swells as a result and it's wildly uncomfortable."
Be your own cheerleader
Then follow it up with, "But I am overcoming it day by day. Through much trial and error, I have found a system that seems to be helping my body heal. I just have to be really diligent because one minor slip seems to set me back for days. And I'm really counting on a full recovery!"
Hopefully that will be what they needed to hear in order get a glimpse of what you go through, to be back on your team, and support you to the end!
---
Additional information to pass along to loved ones:
Why Diet is SO Important in Overcoming SIBO